Sudden cardiac arrest is one of the leading causes of death in Australia with more than 30,000 cases occurring nationwide each year. We're still seeing the death rate at over 90%, with current figures increasingly high.
In Victoria between July 2019 and June 2020, we saw 6,761 out-of-hospital sudden cardiac arrests, adding even more importance on at home defibrillators. This is the most cases ever recorded for Victoria, with an increase of 3.7%. A total of 76% occurred in private residences. Do we need to say more?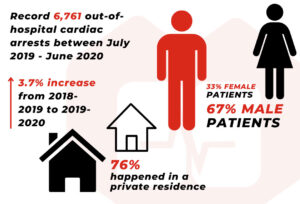 So you're now asking yourself, what can I do?
The more individuals provide immediate CPR and defibrillation, the more likely the patient is of surviving. The only way to revive someone from Sudden Cardiac Arrest is defibrillation, CPR will assist until a shock has been administered.
What can you do?
Learn CPR – Ensure your first aid training is up-to-date, not only for SCA, but for overall public care
Purchase a defibrillator – With 76% of SCA's happening out of hospital, the more devices that are within the community the better. Whether it's the home, restaurant, sporting ground, workplace and more. The first 10 minutes of SCA are the most important in saving a life.